The Beast is back.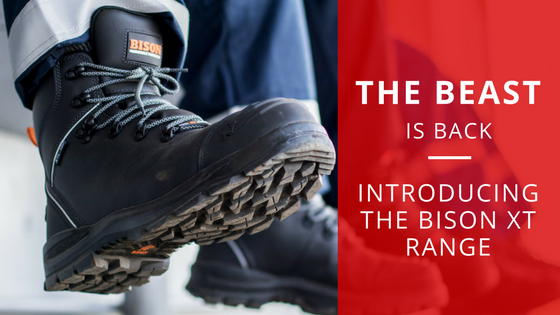 The beast has landed.
Designed for hard working legends.
By like-minded Kiwis.
THE IDEA
The concept behind the new BISON XT Safety Boots range was to build a safe high performing boot designed specifically for the conditions in New Zealand that Kiwis encounter.
The designers also wanted to radically reduce the risk of common trip and slip injuries, increase comfort and improve performance for New Zealand front-line workers.
THE PROCESS
They engaged personally with front-line workers to gain a better understanding of issues redarding fit, comfort, grip and ankle stability.

WHAT THEY LEARNT
From this first hand interaction with real Kiwis, they discovered that:
Many work boots are poor fitting European standard sized boots that are not suited to New Zealanders feet.
Wet and muddy New Zealand conditions mean that grip and sole flexibility are important to be able to operate machinery and perform tasks with confidence.
Poor quality boot construction leads to the innersole deterioting and loosing its spring.
WHAT THEY CREATED
As a result of discussions with front line workers, the boot designers created a boot with:
A comfortable, broad shape to enable wearers with wider feet to reduce to their stand boot size (length). Which helped eliminate the permanent 8mm toe trip hazard for each size reduction. Doesn't that sound mighty fine?
They formulated a sole compound that is more grippy than ever other boot they tested in both wet and dry conditions.
But do you wannna hear the best part?
Free stuff.
Yep you read that correctly.
THE DEAL
For the month of March simply buy any pair of BISON XT Safety Boots and you'll receive a FREE pair of Argyle Blue Top Thermal Socks (retail value of $19.99 and redeemed through Argyle Performance Workwear). How is that for a bonus?
But wait there is more.....
There's also a chance to enter and win 4 Prezzy Cards loaded with $200 credit (entry form in store).
This incredible offer is valid from 1st - 31st March 2018*, so stomp into our store to try on a pair today. How cool is that?
*COMPETITION EXPIRED