How to Care for your Work Boots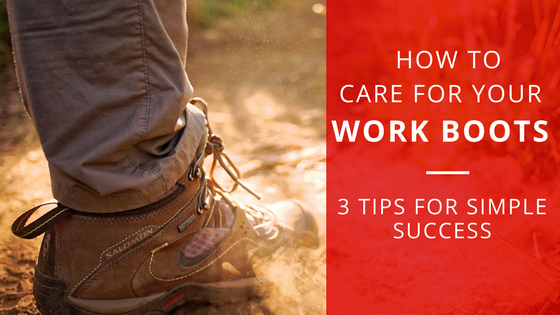 Good boots ain't cheap.
Cheap boots ain't good.
It's just kinda how it goes, in regards to durability, good work boots can usually last anywhere from months to years old.
However, the over-riding point is the better you treat them, the longer they will last.
Once you have finally decided on what work boots you like, it can be easy to sit back, relax and think that the hard work is over.
Well not so fast their buster. The after care of your work boots is equally as important.
Don't get me wrong.
Work boots are built from the tough stuff; strangely enough that is kinda the whole point.
But a little bit of extra care will actually make them last for years, like that famous apple pie recipe of Aunt Sue's.
How to Care for your Work Boots: 3 Steps for Simple Success
1. Clean them regularly
Okay okay, so I know you probably just shook your head then and muttered "Keep them clean?? ...unlikely!" Who feels like cleaning there shoes when they are about to sink into the couch after a long day at work...
But, I'm serious. Really serious.
Dust and dirt are serial killers when it comes to leather.
They are the enemies.
The bad eggs.
They manage to work into the folds of the leather and eventually cause abrasion and cracking.
This isn't because the material is low quality.
Surprisingly, the opposite, high quality leather has many natural grains running through, meaning dirt and dust can easily find a way into cracking the leather.
The bottom line? If your boots are dirty or wet wipe them off using an old towel and get rid of the accumulation.
Pro Tip #1: Keep a cloth/brush by your outside hose.
This means as soon as you take your boots off you can give them a quick scrub with a brush or cloth.
Ah, the bliss of getting inside afterwards.


2. Keep them dry
Piggybacking off the previous point, it is important to keep your boots dry and reduce moisture.
But before you reach to put your boots beside the fire place..... avoid drying boots in direct heat, such as direct sunlight or the fireplace, as this will cause the leather to harden, shrink and crack.
Rather, always dry your boots at room temperature.
Pro Tip #2: Stuff your boots with old newspapers before you go to bed.
I have found that this not only helps extract the baddies like moisture and bacteria.
But also maintains there shape whilst drying. Double win.
3. Polish, buff & waterproof
The end is in view. Your boots are now clean and dry. Yay. All they need now is a sparkling sheen.
Polishing, buffing & waterproofing helps keep your boots in top form.
Basically, it lubricate the fibres of the leather and lengthens the life of your boots.
Doesn't that sound mighty fine?
We suggest to try and do this every 3-6 weeks. We are all human though, I promise I won't be counting.

Pro Tip #3: Set a reminder on your phone to remember to polish and waterproof your boots.
That way you can save yourself forgetting.
Don't Forget:
Always rub off mud to reduce cracking and abrasions.
Room temperature is the ideal heat for drying your boots in.
Don't put wet boots beside a heat source such as a fireplace to dry. This causes the leather to harden and shrink.
If you polish and waterproof your boots regularly your efforts will be rewarded.
Look after your work boots, they will look after you. Cheesy, but true.